Welcome to the 1-99 thieving guide. One direct piece of advise: Be patient.

How to Start
Edit
Watch the slideshow, or read the directions, whichever you prefir.
step 2: Click on the spell with the W on it. It also has a blue background
step 3: Click ardougne
step 4: head north-west to reach the baker's stall
step 5: click on the stall to steal from it.
Your inventory will soon fill with random food items like bread and cakes. No worries though, you can sell them to sigmud the merchant for extra profit!
--IMPORTANT!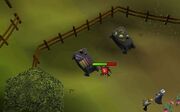 Every time you attempt to steal from a stall, there is a chance that you will be injured. It is not a 100% chance, but it happens sometimes. The damages can be anywhere from 0-10 hp. This is important information for pures, since you can die in one hit from the stall. Bringing food is strongly suggested.
--
Levels and Info
Edit
Thieving Information

| Level | name | coins | loot | EXP | donator? | location |
| --- | --- | --- | --- | --- | --- | --- |
| 1 | Baker's | 10,098 | food | 875 | no | Ardougne |
| 25 | Fur | 10,098 | furs | 1400 | no | Ardogune |
| 40 | Spice | 10,098 | spices | 1750 | no | Ardougne |
| 75 | Gem | 21,780 | Gems | 3,500 | no | Ardougne |
| 80 | Bakery | 10,098 | d'hide body | 4,200 | yes | Donator zone |
| 90 | Clothes | 10,098 | mystic hat | 5,950 | yes | Donator Zone |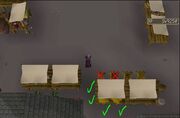 While trying to steal from a Fur stall, if you attempt to steal from the front of the stall, nothing will happen, You Must be along the side or behinnd it to successfully steal anything.
This bug also applies to the Spice stall.
The gem stall can only be use from the Front. This stall is exactly the opposite as the fur and spice.
The Gem stall gives the player the most money, even though it is not the highest tier of stall. This stall gives more than twice any other.
The bakery stall gives the player a piece of armor/armour